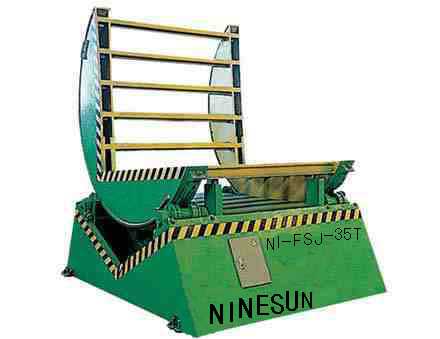 This machine is used for turning over stone blocks.
NI-FSJ-35T
FSJ-35T
Max.

stone weight

kg
35000
Max.

stone length

mm
3000

Max.stone width

mm
2000
Max.

stone heigh

mm
2000

Turning angle

n°

0-90

Total power

KW

7.5
As a specialized manufacturer & exporter, Ninesun Stone machine company is doing its best to offer high quality stone turnover machine, turn over stone blocks, china stone machine, granite edge milling, china granite machine, bridge cutting machine, stone grinding machine and stone cutting machine etc.
Ninesun company can offer various china stone machine, and the stone turnover machine is used for turning over stone blocks. The stone turnover machine veers and turns the sides of blocks and semi-finished products when cutting the edge of blocks or big slabs. With special concave arc device, the stone turnover machine can run steadily and has less risks of damage. With easy and safe operation, the machine can effectively decrease the risk of material's damage. The large work pieces of stone turnover machine can be put directly onto the ground, thus increasing the processing stability and saving machine maintenance costs greatly. The work features stable working, easy operation, high processing quality and efficiency, less power consumption and failure rate. That our rich experience in making China stone machine allows us to develop it to reach its construction quality, technical features and the use of selected materials, which makes our stone turnover machine been widely accepted by the market.