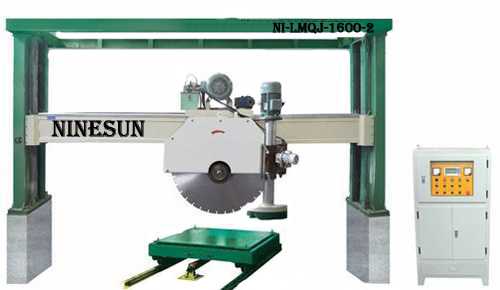 The machine is built in total cast iron with giant blade for extra cutting depth, with two columns that support and guide the vertical cutting unit's movement along the cast iron bridge, making vertical movement on the two precision screws with two worm screws. Furthermore, the machine is formed with steel worktable along with running path. The max diameter of the fixed blade can be 1600mm (single blade only), or can be with numbers of smaller disc combination. This machine is available for cutting and edging large scale Marble & Granite Block.
NI-LMQJ-1600-2
LMQJ-1600-2
Max.cutting length
mm
3000
Max.cutting width
mm
2000
Max.cutting height
mm
2000
Max.blade diameter
mm
1600
Main motor power
KW
37 or 55
Water consumption

m

3

/h
6
Overall dimensions(L×W×H)

mm

6000×4700×6000
Approximate weight
kg
7000
The machine is CE certified for stone cutting machine with the features of high production capacity and good precision. The imported converter can well regulate the speed, and the trolley surface can rotate 360 degree. Adopting mechanics design, the machine has reasonable structure, good firmness and stable performance. Its processing sheet has large specifications and good quality. The machine is the ideal equipment for the processing of granite and marble and other kinds of stone materials.