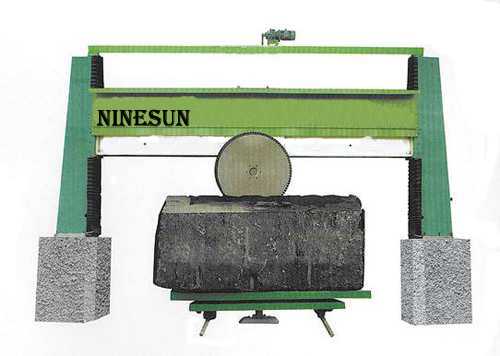 Ninesun Stone Machine company is a specialized manufacturer & exporter of stone cutting machine, such as block squaring cutter, square cutter, horizontal cutting machine, tile cutter, marble cuter, stone cutter, granite cutter, diamond saw blade, industrial diamond cutter, stone cutting machine.
The big block squaring cutter is an improved set of equipment based on the gantry type stone machine, and is provided with a heavy-type trolley to conduct horizontal on blank materials.
NI-DPSB-3500
| | | |
| --- | --- | --- |
| | | DPSB-3500 |
| Max.cutting length | mm | 3500 |
| Max.cutting width | mm | 2000 |
| Max.cutting height | mm | 2000 |
| Max.cutting diameter | mm | 1600 |
| Main motor power | KW | 22 |
| Approximate weight | kg | 12000 |
The squaring cutter has all the basic functions of the gantry type stone cutting machine. The horizontal cutting machine is of girder rise and fall type structure, and imported frequency converter is used to conduct step-less speed adjustment. With electromechanical integrated design, this block squaring cutter can fulfill cutting task in one time and dispense with the need for discharging the slabs when cutting blocks. Adopting teeth bar, the slab-partition drive mechanism of squaring cutter possesses higher precision with less clearance. With frequency control, the block squaring cutter can run steadily and has less risks of damage. With the features of compact structure, convenient operation, automatic, low work intensity, fast producing efficiency and high percent of regular product and stable performance, the block squaring cutter is an ideal set of equipment to process a big variety of large-size blocks granite and marble stone with excellent quality.