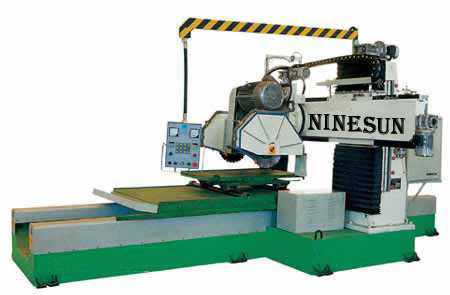 The machine is used for cutting profile, arc profile, roman column, stylobate and column slab with automatic tracking.
NI-DHFX-1200
DHFX-1200
Max.cutting length
mm
3000
Max.cutting width
mm
1100
Max.cutting height
mm
600
Max.cutting diameter
mm
2000
Main motor power
KW
15
Water consumption

m

3

/h
4
Ninesun Stone Machine Company is specialized manufacturer of multifunctional profile machine for cutting arc profile, roman column, stylobate column slab, stone cutting machine, wire cutting machine, granite cutting machine, marble cutting machine, diamond cutting machine etc. The multifunctional profile machine adopts advanced PLC programmable automatic control copying system and variable frequency technology with double blades cutting, working automatically. This multifunctional profile machine is dexterous and original design, with well face connecting after processing line and high manufacture efficiency. When the multifunctional profile machine adopts saw blade to process the arcs, it is attached with a line pattern plate. When the electric appliance button has been pressed, the blade makes longitudinal automatic leftward or rightward movements along with the patter plate and electro-optic probe to implement cutting. It is of double saw blades variable frequency and speed cutting. Diamond cutting machine features solid structure, fast cutting, less power consumption, high capability, stable performance and low failure rate. At present, cutting arc profile is a practical advanced model with preferential choose. The advantage of the multifunctional profile machine for profiling is stable cutting, high performance, smooth cutting face and accurate of processing. With frequency control, the multifunctional profile machine can run steadily and has less risks of damage.