Ninesun Stone machine company is slab polishing machine manufacturer and exporter from China. The slab polishing machine has a fixed base, which can polish the stone surface with high quality finishing and the production rates will be increased. The product proposes a marble or stone slab polishing machine to polish slabs made from stone and marble etc. Particularly, the existing machine is to polish the borders of slabs. The main feature of this machine is the presence of tools holding head pivoted round a fulcrum.
NI-ZDMJ-20C
ZDMJ-20C
No.of heads
n°
20
Useful working width
mm
600-2000
Useful working thickness
mm
15-50
Belt advancement speed
mm/min
0-2500
spindle motor power
KW
15
Total power
KW
311.3
Water consumption

m

3

/h
30
Overall dimensions(L×W×H)
mm
14200×3781×3148
Precisely, the machine according to this comprises a slab supporting part in which the slabs are fed on a horizontal band disposed in the front of the machine. The borders of the slabs are worked by polishing tools of heads arranged on a unit that is rotated angularly and is mounted on fulcrum supports.

Automatic lubrication

Hidden cylinder

Sensor for abrasives lacking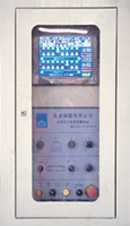 Screen display

Safe warning

Worm motor

Polishing head cover
Electric box