Ninesun Stone Machine Company is a specialized manufacturer & exporter of bridge single head polisher, stone polishing machine, lapping machine, granite polishing heads, stone grinding machines, polishing discs, polishing pads, grinding cup wheels, granite polishing, polishing wheel.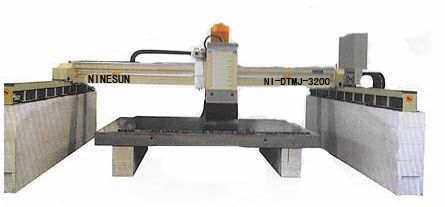 The machine adopts bridge overall structure. When running, the polishing head is installed in the side of the middle sliding object and lifting up and down by air pressure, the middle sliding object runs leftward and rightward on the main girder, and the main girder runs forward and bacKWard on the guide rail. At the mean while, the working bedplate will not make any movement, which insures the machine more stable and quiet when running. Adopting pneumatic pressurization, the labor intensity of the workers will be reduced. Hence, the machine will be ideal equipment for processing those large specification stone such as big flagstone, gravestone etc.
NI-DTMJ-3200
| | | |
| --- | --- | --- |
| | | DTMJ-3200 |
| Max.polishing length | mm | 0-3200 |
| Max.polishing width | mm | 0-2000 |
| Lifting stroke of Air Pressure | mm | 0-240 |
| Main motor power | KW | 15 |
| Rotate speed of the principal axis Marble | rpm | 960 |
| Rotate speed of the principal axis Granite | rpm | 540 |
| Main powe | KW | 21 |
| Overall dimensions(L×W×H) | mm | 6240×6240×2600 |
This kind of stone polishing machine is Bridge single head polisher that uses wide-span bridge type structure, and is equipped with 360 degree rotary cutting head. The switchboard on the stone polishing machine, with operation buttons, programmer and liquid crystal display on, is mounted on the right hand side of the machine. The switchboard can make the operator control the machine easily from the sawing area when the stone is being positioned. Generally this lapping machine is provided with fully automatic girder displacement positioning and microcomputer control, and is very high in automation level. By moving the girder horizontal stone slicing, the function will be realized. With this bridge single head polisher, slabs of great lengths and depths can be processed (the max blade vertical stroke up to 3.6 m) with flexibility in rotation, precise positioning, great strength and stable operation. The main parts and components of the bridge single head polisher (such as frequency converter, magnetic rule, laser reticule apparatus) are all of imported high-quality materials, which will ensure the high precision, stable performance and good adaptability as well as high reliability of the whole machine. The bridge single head polisher is particularly applicable for polishing valuable and large stone plates.