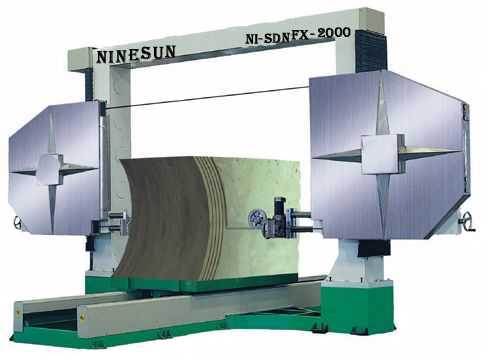 The wire cutting machine is an automatic, contouring machine, which is designed for carrying out complex architectural shapes or processing new-shaped of granite and marble, cutting different sizes and thickness, such as profile, column slab, roman column and words on granite or marble and every kind of natural stones. The wire cutting machine features of solid structure, fast cutting, less power consumption, high capability, stable performance and low failure rate. Adopting the world advanced technology, such as CNC control and Windows 98 interface, the wire saw machine can make every preliminary and final operation simplified. Our rich experience in making wire saw machine allows us to update it and reach its construction quality, technical features and use selected materials. Diamond wire saw can be operated by telephone network in long range and is applicable for wire cutting with high efficiency. During the period of running, the diamond wire saw does not make any noise. And it is unnecessary to install underground screws. The geometrical frame of wire cutting machine guarantees the absence of vibrations and an increasing of the wear resistance during the time.
NI-SDNFX-2000
SDNFX-2000
Max.cutting dimensions(L×W×H)
mm
2000×2000×1500
Wire length
mm
15100

Wire diameter

mm
8-10
Cutting linear speed
m/s
25-45
Main motor power
KW
11
Water consumption

m

3

/h
4
Overall dimensions(L×W×H)

mm

6000×7000×4000
Approximate weight
kg
6800
With frequency control, the wire cutting machine runs steadily and has less risks of damage.